The market chatter is usually about what to buy or sell and when. However, choosing the right strategy is equally important. It can help to tilt the risk/reward ratio in your favor. The benefits of being a good strategist may not be apparent after a single trade but can make a huge difference in the long run.
But we won't be theoretical and show you a specific situation our premium users were watching in real time. On August 10th, we identified silver as a great short opportunity. We called it an incredible mean reversion opportunity. Our call was spot on and our subscribers benefited tremendously.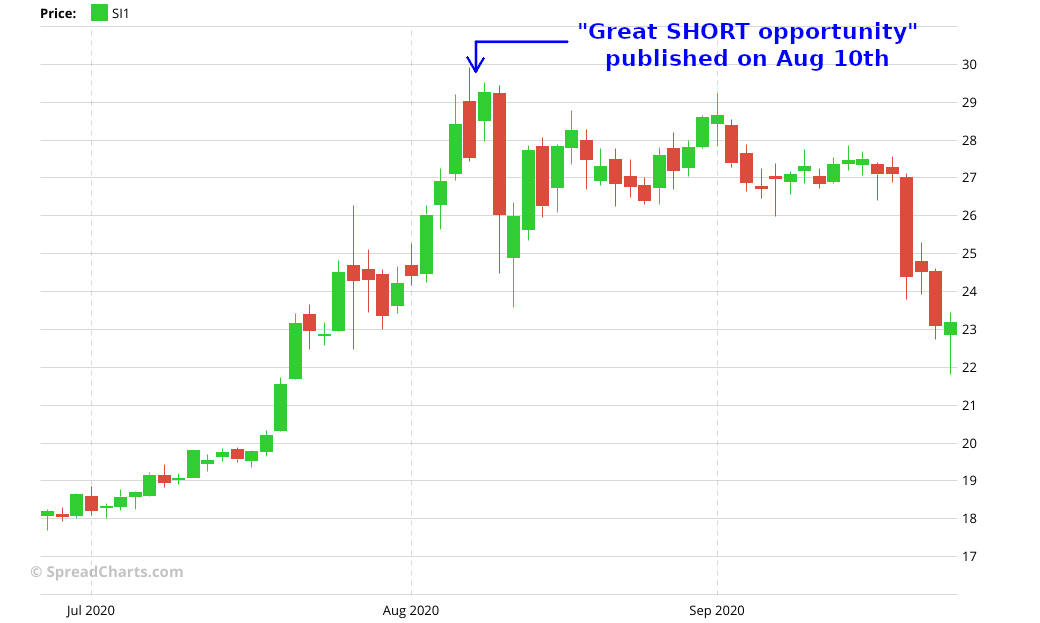 Ok we were right, but that's not the point. Maybe we were just lucky. Although we were quite sure there would be a correction on silver, timing the exact top is always hard.
But we have not been relying on luck. In fact, we devised a strategy that turned out to be very profitable even before the recent sharp drop on silver during September. That's because we identified a much better opportunity than the overextended price itself. We spotted a situation that happened only three times over the past decade and was profitable in each of these cases.
What was it? Well, we decided to reveal the whole strategy to you for free. It's too late to catch this particular opportunity as this research video was released to our premium users on August 10th. Nevertheless, the video analysis has a valuable educational content.
We publish many more strategies and reveal the best opportunities in our premium Research. Subscribe here if you don't want to miss such an opportunity next time.