The crypto mania is clearly over, as the rising interest rates have popped this bubble. Nevertheless, cryptocurrencies are most likely here to stay. Despite their little to no usefulness in real life, they are popular trading vehicles.
We are reflecting this trend by introducing Bitcoin and Ether futures data to our platform.
They are:
CME Bitcoin
CME Micro Bitcoin
CME Ether
You can find them in the SpreadCharts app under the new Crypto group.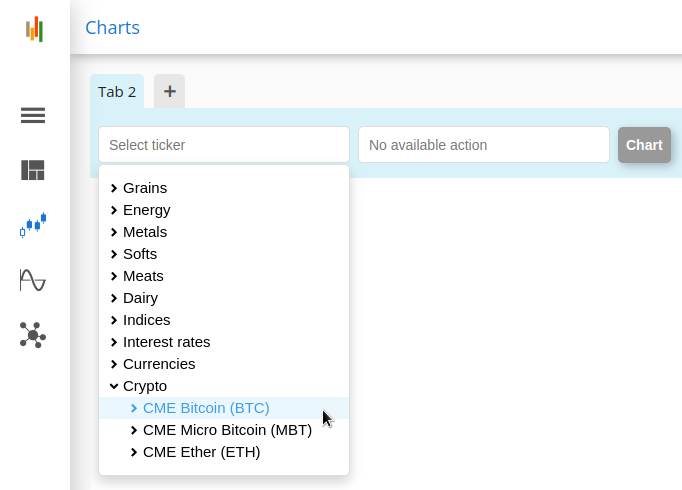 You might wonder what's the purpose of these futures contracts when people can easily trade cryptocurrencies on exchanges like Binance, Coinbase, or Kraken. Well, there is one reason that comes to my mind, and it's safety. Many crypto exchanges were hacked in the past. Besides hacks, the crypto industry is poorly regulated. That allowed some exchanges to engage in suspicious lending or even outright fraud.
On the other hand, cryptocurrency futures on CME, as well as futures brokers, are well regulated by the CFTC. Yes, every financial institution can go bankrupt. Even futures brokers failed in the past (remember MF Global?). But such events have been rare. The futures industry is a magnitude safer than the crypto industry right now. This safety is not inherent. It is simply the result of decades of regulatory work aimed at closing potential loopholes. Crypto exchanges have yet to undergo that process.
And by the way, we have Commitments of Traders data for all these cryptocurrency futures.
You can browse the new data right now in the SpreadCharts app, either in the free or the premium version. Just don't forget to fetch the new version using Ctrl+Shift+R.
Enjoy the new data, specifications are listed below.
---

Contract name
CME Bitcoin

---

Exchange
CME

---

Ticker
BTC

---

Expiration months
H, M, U, Z + several near contracts

---

Currency
USD

---

Contract size
5 Bitcoin

---

Point value
$5

---

Tick size / value
5 / $25

---

Settlement
Financial

---
---

Contract name
CME Micro Bitcoin

---

Exchange
CME

---

Ticker
MBT

---

Expiration months
H, M, U, Z + several near contracts

---

Currency
USD

---

Contract size
0.1 Bitcoin

---

Point value
$0.1

---

Tick size / value
5 / $0.5

---

Settlement
Financial

---
---

Contract name
CME Ether

---

Exchange
CME

---

Ticker
ETH

---

Expiration months
H, M, U, Z + several near contracts

---

Currency
USD

---

Contract size
50 Ether

---

Point value
$50

---

Tick size / value
0.5 / $25

---

Settlement
Financial

---